Bring yourself to the most Instagrammable, aesthetically pleasing, nutritious, delicious and wonderful Matcha cafe in London!
Did someone say aesthetic? 😍
Embark on the journey to a literal Matcha heaven, How Matcha is the definition of Instagrammable, fun, relaxing and delicious. This green goodness we call Matcha is the key ingredient in their treats and drinks, and if you're feeling cheeky you can even get a little shot of CBD, for some extra green goodness 😉
Now back to it, the baby pink walls and floral interior will get you feeling like you're on a cloud, from soothing and relaxing R&B tunes playing in the back, this place will have you feeling like you wanna dance a little. From the neon sign on the wall that reads "Matcha Made In Heaven" to an array of stunning treats waiting for you to indulge.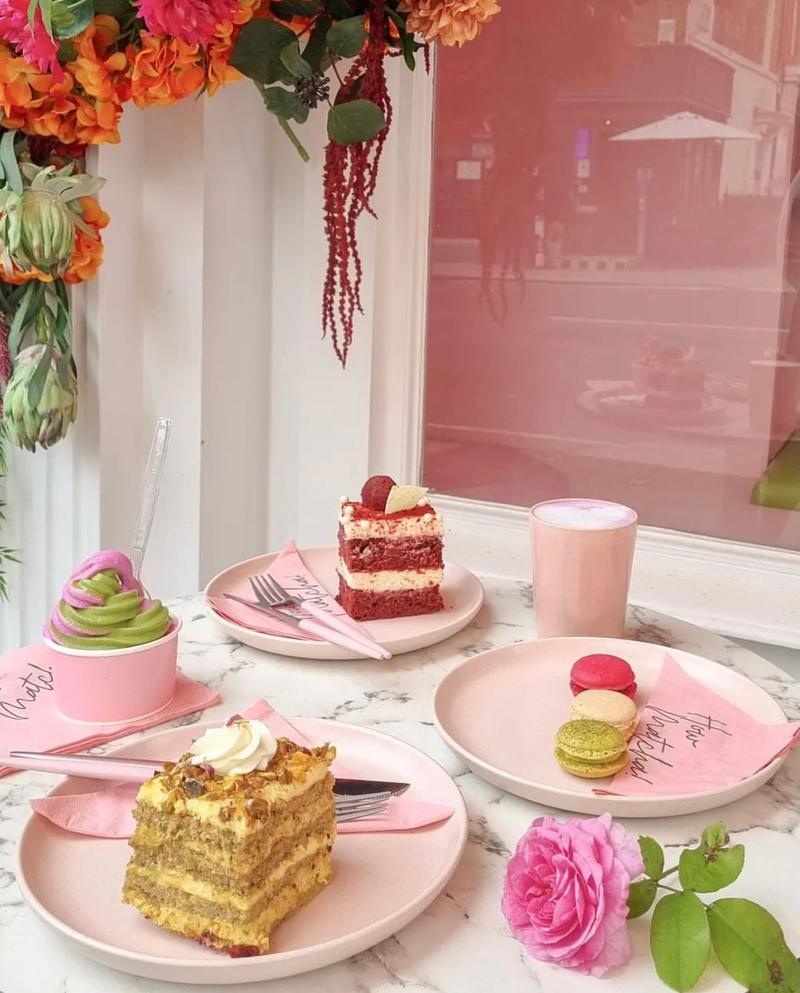 Now the food truly is something divine, and the best thing about it all, is that it's not only great on the taste buds and incredibly aesthetically pleasing, it is also a nutritious treat for the gut.
Trust me when I say your gut will be thanking you after eating here, because mine definitely was! From the layered matcha pancake, which was so fun to cut into, watching each layer turn into one perfect bite. It wasn't too sweet and was just the perfect balance of Matcha and pancake, this paired with their famous "Glow" drink was a match made in heaven.
Now the Glow drink is made with Matcha, Collagen, rose and milk, and of course you can switch out the milk with plant based alternatives. But if you're a little skincare obsessed like me, then this drink is perfect for you.
And don't get me started on the Matcha cookie, if you love cookies as much as I do, nothing beats this! A large green cookie with either white chocolate or dark chocolate, while sipping a "Blue Calm" drink with floating lavender to really give you that tranquiil boost. What a perfect way to start your day! Now if you're feeling something a little more classic, then the Macarons should be perfect for you, these were one of the best i've had, small yet hitting the spot.
A Place you cannot miss!
💕
All in all, How Matcha deserves some real recognition, from the ethically sourced and incredible quality Matcha, to fabulous treats, and absolutely amazing service from the staff, if you're ever in Marylebone, you cannot miss this place! And with the Summer coming, the outdoor seating will be the ideal spot for a breakfast treat whilst experiencing the London sun.