The Prince
Great food, great drinks, and a beautiful setting, The Prince in Fulham, London's largest pub garden is great place for all.
The Prince waits for you to visit and enjoy, with a light and airy feel. Flowers climb the wooden bannisters flowing through the ceiling and heading back to the trees, whilst pretty lights hang from above ensuring a magical setting.
With amazing food and drinks, come by to experience a variety of authentic and delicious food, from Jamaican to Italian, there is something here for everyone to enjoy.
The Prince has three separate restaurants all in one place, talk about diverse.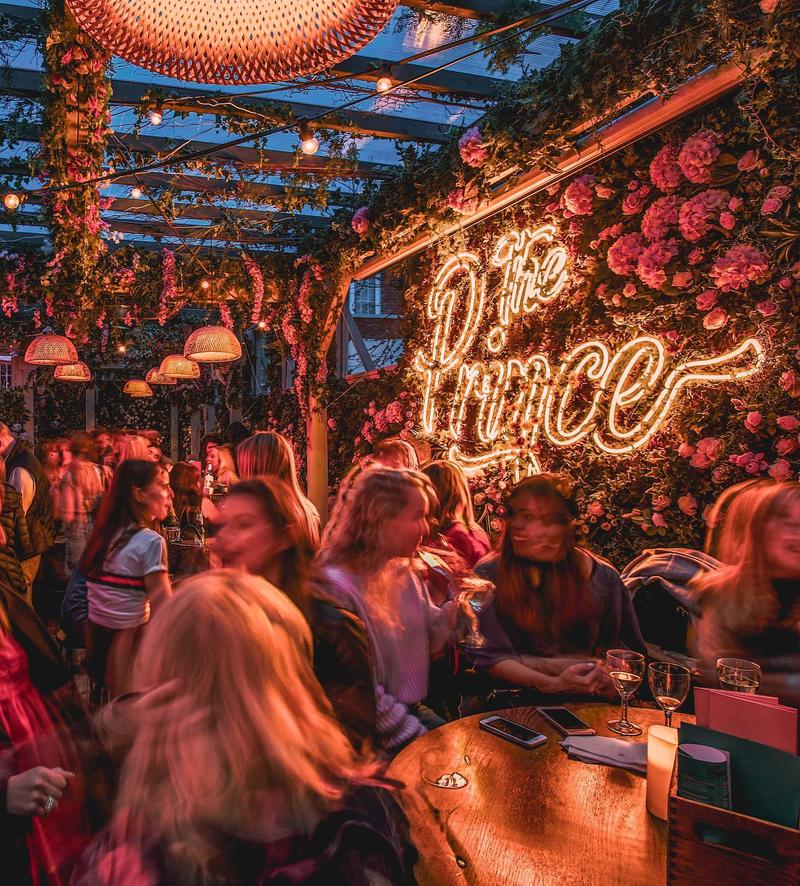 Burgers can never go wrong!
The first resturant Filth and Co will ensure that you don't leave hungry, with the Original Filth Burger, you have an aged beef patty, double American cheese, filthy burger sauce, lettuce & pickles served in a soft brioche bun. Doesn't that sound tasty and filling!
Now, If you're on a plant based diet, there's the mouth-watering Living on the veg, containing Greek halloumi, tzatziki, harissa mayo, date ketchup, rocket and roasted peppers, served in a brioche bun. To complete this, you can have a side of fries or BBQ popcorn chicken, or a chocolate shake, and add some cheeky Kahlúa.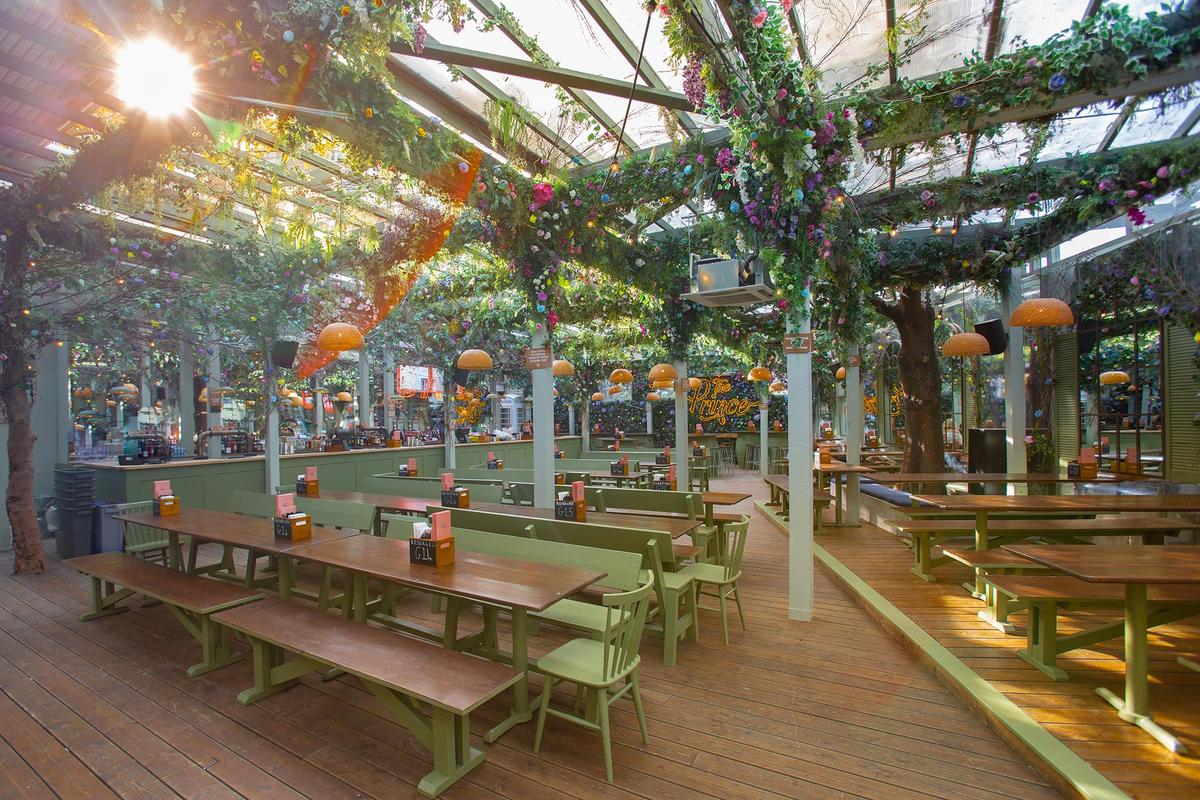 Feeling Italian?
Nonna Madonna, try the tasty Italian Pizza made with love and fresh ingredients, try a Maggie, with mozzarella, classic Pomodoro sauce and oregano, or with a quick request, make it vegan. If you're feeling meaty, try the Antonia, a smoked ham, roasted pineapple, mozzarella, with pomodoro sauce and oregano pizza. For the healthy vegans, try the Giovanna, a kale and lovage leaf pesto, vegan mozzarella, chestnut garlic mushrooms and cultured tomato pizza. These all sound incredible, but nothing beats some dessert, how about a classic cheesecake or some Nutella donuts?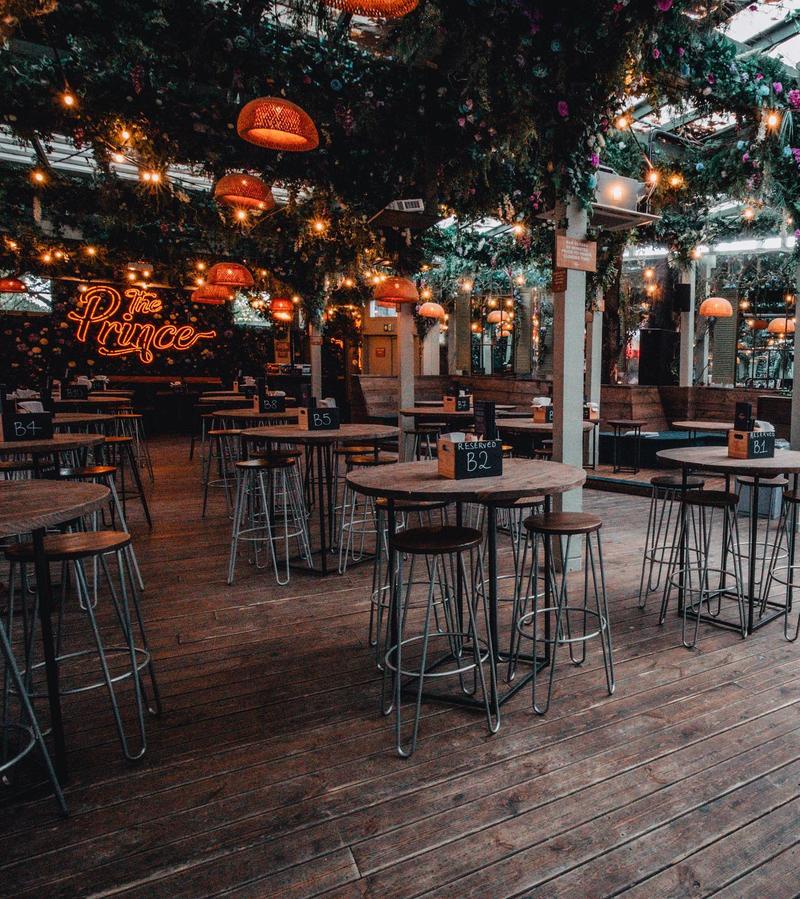 Bringing Jamaica to London
Rudie's jerk shack is a burst of the authentic flavours of modern Jamaican cuisine. You can devour a flavourful Jerk It Up box, with Jerk chicken, one choice of sides, Jerk gravy, and rude sauce. Or a protein packed vegan Channa wrap, including Chickpea (channa) curry, plantain, crunchy salad, and rude sauces. For a few extra pounds you can chuck in a side of Jerk fries, or some Boston wings, the choice is yours.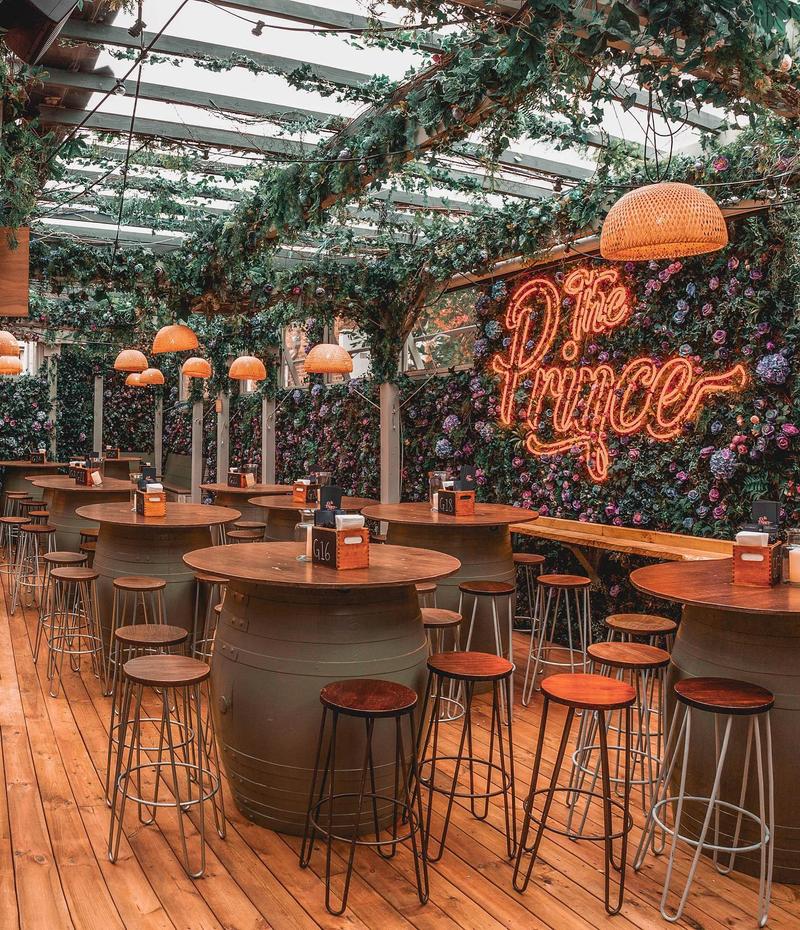 Can't be a Pub without drinks!
Take a dive into some beers like Draught Lager, or Draught craft such as a Camden Pale Ale, and even bottled beers and craft cans. If you're feeling extra the house cocktails selection will surely blow you away. Try a Watermelon Bull, you've got your Spiced Tanqueray Gin, Pomegranate, Supasawa, Ginger, Lemongrass and Red Bull Watermelon. Now if you want an extra kick, have a Chai Colada, with Duppy Spiced, Chai, Coconut, Pineapple and Orange.
Wines are always available if you're feeling a little fancy, from Red, White, and Rose to Sparkling. For any Non-alcohol drinkers, sip on an alcohol free Nogroni, of Seedlip Spice 94, Aecorn bitter and Aecorn aromatic. With such a variety in both food and drinks, make your way to The Prince and have a splendid time.